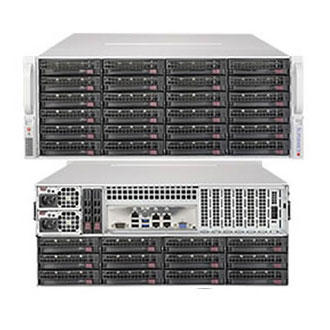 Supermicro SuperServer
E5-2600 v3 + C612 based SuperServer / Socket R3 – LGA 2011 / DP Xeon
Xeon® E5-2600 v3 Family
Supermicro's New Generation X10 Haswell DP SuperServer® offers numerous advantages over previous generations including the highest levels of performance, efficiency, security and scalability in the industry.
At Taknet, we are a leading provider of SuperMicro servers in Malaysia. If you wish to upgrade your servers and optimize productivity and performance, we offer a range of solutions that you can benefit from. The SuperMicro servers are design to handle the most demanding computing tasks with ease and efficiency, enabling you to get the results you are looking for.
There are numerous benefits that you can leverage from the servers from SuperMicro. You can deploy them and use them for both critical and general applications. The new generation of servers that Taknet offers provides great scalability and security than the previous generations. To ensure you derive the maximum benefit from these servers, we offer a range of servers that you can choose from, including the 1U Xeon® E5-2600 v3 Family and the 4U/Tower Xeon® E5-2600 v3 Family.
We are the foremost SuperMicro distributor in Malaysia, offering the products you need at the best prices. The servers from SuperMicro are easy to deploy and maintain, providing the utmost convenience, and therefore, SuperMicro Malaysia is a brand you should definitely consider investing in. If you have a clear idea of your server needs, discuss with us and we will provide the solution.
 1U Xeon® E5-2600 v3 Family
Dual Socket
Single Socket
1U Xeon E5 2600 v3 Family Dual Super Server
1U Xeon E5 2600 v3 Family Single Super Server
 2U Xeon® E5-2600 v3 Family
Dual Socket
Single Socket
2U Xeon E5 2600 v3 Family Dual Super Server
2U Xeon E5 2600 v3 Family Single Super Server
3U Xeon® E5-2600 v3 Family
Dual Socket
Single Socket
3U Xeon E5 2600 v3 Family Dual Super Server
3U Xeon E5 2600 v3 Family Single Super Server
 4U/Tower Xeon® E5-2600 v3 Family
Dual Socket
Single Socket
4U Xeon E5 2600 v3 Family Dual Super Server
4U Xeon E5 2600 v3 Family Single Super Server